In this document, I take Norton Anti-Virus for Gateways v2.5 (NAVGW) as an example. There are many gateway softwares similar.
First, install NAVGW and connect to localhost 8003 port to its config page. After logging in, click [Configure] -> [SMTP] to setup NAVGW listen port to 2500.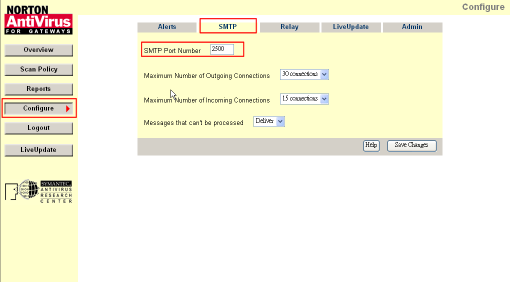 Click [Relay] tab. Add your domain here and relay to localhost 25000 port.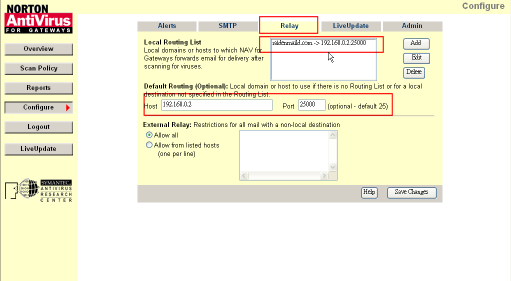 Above settings are the essential settings you need. Besides, there are still many settings useful, you can configure more options if you need.
Then, let's go back to RaidenMAILD. Go to [Server settings] -> [Basic], Modify 2nd SMTP port to 25000 and enable the 2nd SMTP.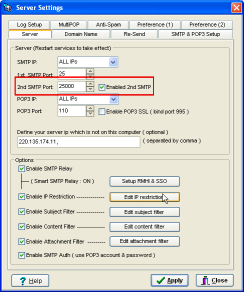 Click [Domain] tab. Add your domain and relay it to LOCALHOST:2500 in the primary domain list ( relay to NAVGW ).
Add your domain and relay it to LOCALHOST:25000 in the secondary domain list (declare 2nd SMTP self as final destination).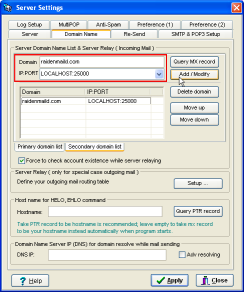 After above settings are inputed, just apply these settings. Go to main form, click [STOP] to stop SMTP & POP3 services, then click [START] to start the services. You will find some log message just like below, it means you already activated dual smtp services.
SMTP service starts to listen port 25 on ALL IPs
SMTP2 service starts to listen port 25000 on ALL IPs
Thus, when outsider sends mail to your domain, the mail flow will be the way you just configured.
[Incoming mail] -> 1st SMTP -> NAVGW -> 2nd SMTP -> <Store mail to mailbox>
The pictures below also shows you some infrastrutures you can refer to.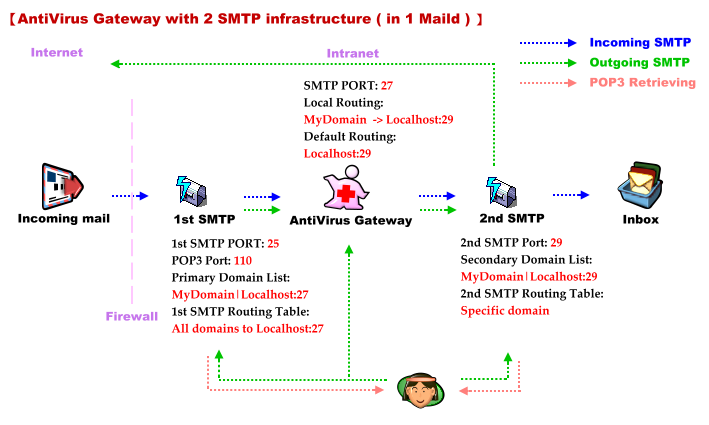 Thanks for your reading.