After v3.5, Webmail Mail Rule is implemented. With mail rule, you can specify key words to move mail to another folder ot delete, you also can specify key words to send new mail notification to your cellular phone (PS1).
PS1: It only support Android phone for now.
PS2: Download Android APP RaidenMAILD Notify Me v1.0
Let me show you how to setup new mail notification
1. First, you need update RaidenMAILD to v3.5 with Ultimate license.
2.Install APP from Play store, just search "Raidenmaild" to find APP.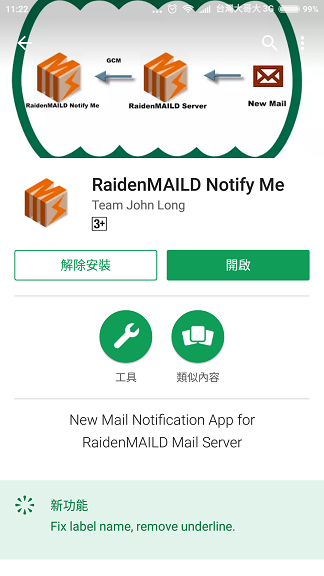 3. App screen as below. Top-Left is setup, Top-Right is to clear screen log. When app is started, screen will maintain active (no lock screen), you could click [Battery Saving] to darken screen brightness to save battery, and just press switch again or tap on screen to restore screen brightness.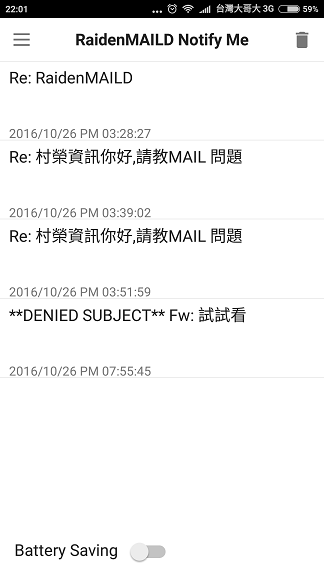 4. Setup screen as below. It is easy to complete the setup. Just log in your RaidenMAILD POP3 Server to update RID.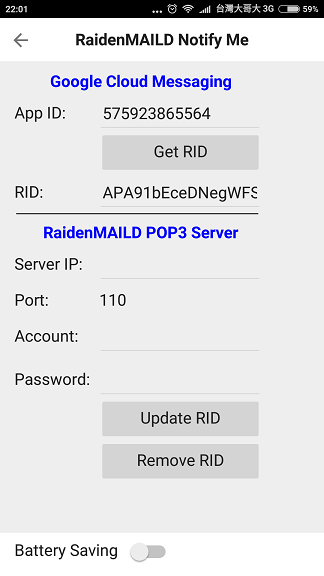 5. Then you should go to webmail to add key words in [Config]-[Mail Rule]
Thanks for your reading
Back to Index
Last update : 2016/10/26