Before having your own mail server, you need to have these criteria ready first :
1. You need to register a domain (.com, .net, .org ...etc).
2. After having a domain registered, you need to setup MX record (Mail Exchanger Record) for your domain.
3. Your internet IP address should be static IP address.
4. You need to setup your router to map port 25, 110, 81 to intranet server if you are in NAT.
5. You need to allow port 25, 110, 81 if you have a firewall software installed.
When above criteria are ready, you are ready to install raidenmaild.
First, go to RaidenMAILD official site to download raidenmaild latest version. Install it.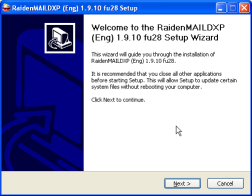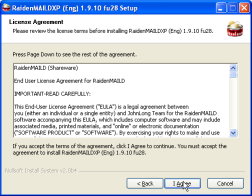 After reading End User License Agreement, click [I Agree] to continue.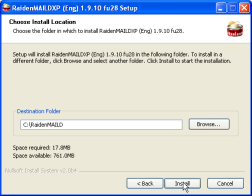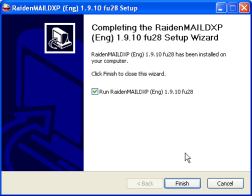 Choose a directory path to install. After installation, a setup wizard will popup to guide you through first time setup. This sample will take raidenmaild.com as sample domain.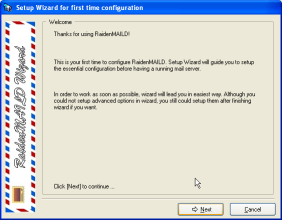 Click [Next] to continue.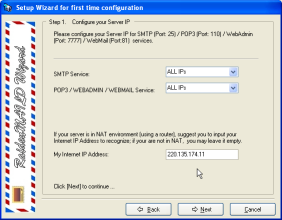 If you are in NAT (for example: you have a ADSL router to dial PPPOE for you), you could input your static internet IP address in [My Internet IP Address].
Click [Next] to continue.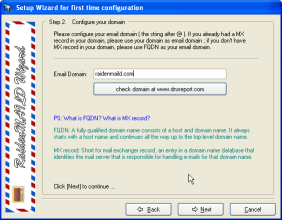 Input your mail domain here. If you already done domain setup including MX record, I suggest you to check your domain health on DNSREPORT. The mail test in dnsreport will not be a success, please ignore it because we didn't finish all configuration.
Click [Next] to continue.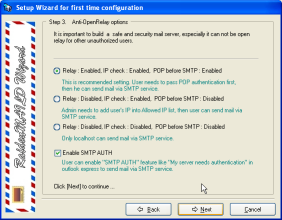 This form is for relay options. The default setting is recommended, it enables SMART SMTP RELAY (POP before SMTP) and SMTP AUTH. Click [Next] to continue.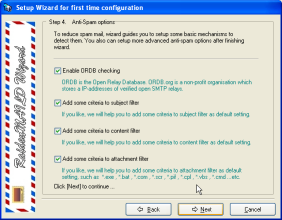 This form is for anti-spam options. Click [Next] to continue.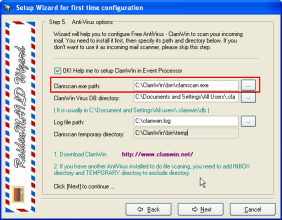 This form is for anti-virus options. It will help you to configure ClamWin to scan your incoming mail.
First, go to http://www.clamwin.net to download ClamWin and install it. After clamwin installation finished, go back to raidenmaild to configure these pathes. (Note: The exeution file we need is "clamscan.exe", not "clamwin.exe"). If your computer has other anti-virus program installed, you must tune its setting just like below.
Add RaidenMAILD Inboxes directory and ClamWin temporary directory to exclusive directory.
Disable SMTP scanning (or Internet scanning) of anti-virus program. Because this feature is not suitable for server environment, it works for mail client application only, thus it may influence your mail server transmission.
Click [Next] to continue .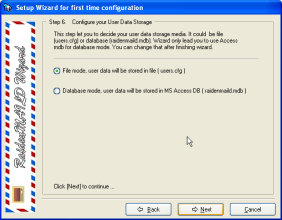 Choose your preferred way to store user list then click [Next] to continue.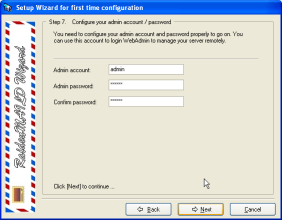 Setup your administrator account & password for remote center then click [Next] to continue.
Setup start type for remote center & webmail then click [Next] to continue.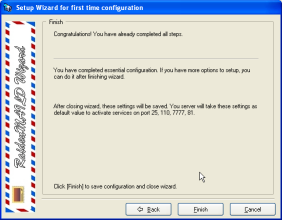 When wizard goes to this step, you already finish main configuration for your mail server, it is ok to click [Finish] to continue.
If you are an un-registered user, it will popup an AD Clicker form to ask you to click at least 3 websites to continue.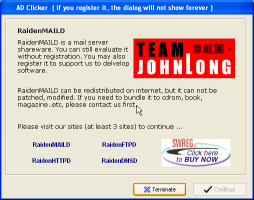 After you click 3 websites, it will be ok to click [Continue].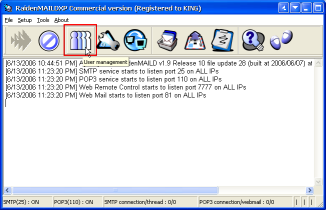 This is main form of RaidenMAILD. If it works well, you should see several services start successfully on ports, or you will see the error description.
Usual failure is:
SMTP service fails to listen port 25 on ALL IP (Could not bind socket. Address and port are already in use.)

It means your port 25 is already taken by other software. It may be your IIS SMTP did it, you can go to [Control Panel] -> [Services] -> [Simple Mail Transport Protocol] to stop and diable it.
If the services start successfully, you are ready to create your user account. Click [User Management] on main form.
Click [Add] to popup new account form. I suggest you can create postmaster account first to be your system mail address. Then you can create any account you want. From now on, your mail server is ready to work. Congratulations!
If RaidenMAILD is suitable for your demand, we are glad to invite you to be our user. That will be our great honor to have your support.
Thanks for your reading.
Last update : 2006/06/13