Email is an efficient and convenient communication mechanism in the world. In business, email already became more important than before, even lots bargains are dealt only via mail.
The format of email address is account@domain_name, thus email works depend on domain name. Although email also works with IP format such as account@IP, but this is not popular for everyone because it is hard to remember meaningless numbers. One more important thing is email doesn't represent an identity, it only represents an address of mailbox.
To have a mail server for your own, you need have these criteria below:
Static IP address network
Own a domain
Mail server software
I will demonstrate the steps to build my own mail server. Although you may not use the same softwares as I have, the concept and theory are all the same.
I will choose our company products RaidenMAILD and RaidenDNSD to demonstrate.
Step 1: Register a domain
(1) First of all, I find a domain registrar and register a domain "mail-server.tw". After I get the id/pass, I login the registrar domain system to do my domain setup. Basically, there are two domain modes for you to choose. One is DNS mode and the other is ADDRESS mode. DNS mode means you will setup a DNS Server on your own to host your domain records data and registrar only pass query to your dns server. ADDRESS mode means it only let you to add address records to point to your server ip, there is no way to add MX, TXT records..etc.
Some registrars may provide you full domain setup service. You could setup all domain data on its system including MX, TXT records...etc. Therefore, choose a good domain regstrar to apply a domain is very important.
For demonstration purpose, I choose DNS mode and input two NS records (Name Server) which is pointed to my dns server's IP address.

(2) As above image shows, I input two NS Records to point to my dns server IP address. That means I will install DNS server on 122.116.127.227.
Step 2: Install and setup DNS Server
(1) Go to RaidenDNSD official site to download latest RaidenDNSD and finish the installation. You will see below screen after you first time start RaidenDNSD.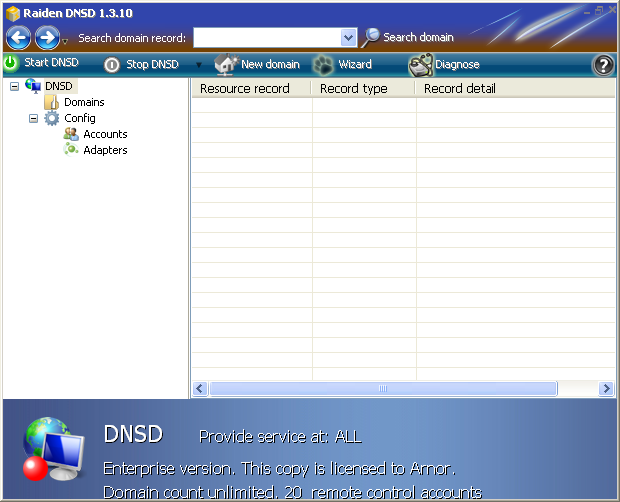 (2) Click [Start DNSD] to make service started. Then click [Wizard] to add your domain to dns server.

(3) Input your internet IP address

(4) After finishing, the wizard will create common records for you.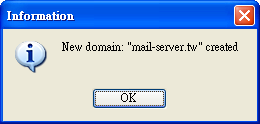 (5) Click [Domains]-[mail-server.tw] in left tree, you could see the all records just created by wizard.
The DM file is below: (DM file is dns server domain data file, you could find it in dnsd\DMZ folder)
(6) You may already notice the NS servers in STEP1 and STEP2 are the same. This is very important for domain setup. The NS on registrar and the NS on your DNS server should be the same address records.
(7) If there is no error on above settings, you already done the dns server setup. If you wanna add more records (MX, TXT..etc), just add them.
Step 3: Install and setup MAIL Server
(1) Go to RaidenMAILD official site to download RaidenMAILD and follow the wizard to finish mail server installation.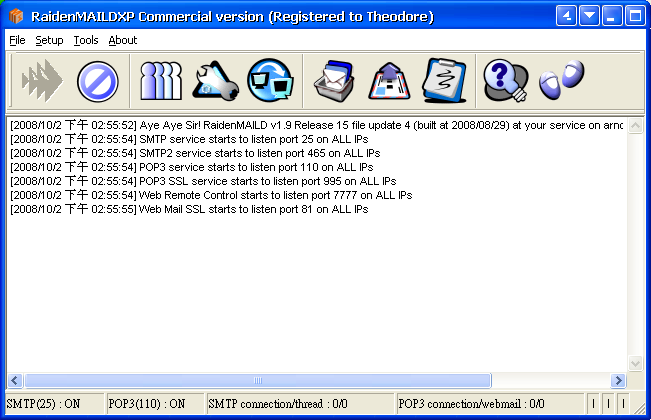 (2) The SMTP service binds port 25, POP3 service binds port 110, Webmail service binds port 81.
Step 4: Open ports 25, 110, 81, 53..etc.
(1) Open ports on firewall
You could open ports for SMTP 25 TCP port, POP3 110 TCP port, WEBMAIL 81 TCP port, DNS 53 TCP/UDP port in [Control Panel] - [Windows Firewall].
(2) Setup port mapping / virtual server on your router (DSL router).
If you have a router to have NAT environment, you need to do extra settings on router to forward specific port to intranet computers.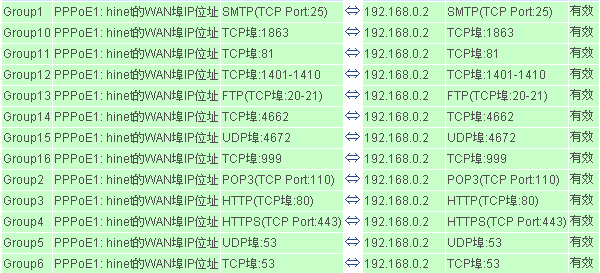 (3) Check your anti-virus software.
Some anti-virus softwares have firewall feature within. You should allow these ports in anti-virus or allow server applications.
Step 5: Test
(1) You could go to http://www.dnsreport.com to do domain test. It will generate a full report for you to analyse problem you got.
(2) Another domain test site is http://www.checkdns.net/quickcheckdomainf.aspx
Thanks for your reading.
Last update : 2008/10/02